For Hire

Ford Transit Custom

Our Ford Transit Custom Trail has the awning and pop-up roof that you would associate with a campervan, however its primary function is to get you and your kit to trails, events or races and back, safely, securely and shred-ready.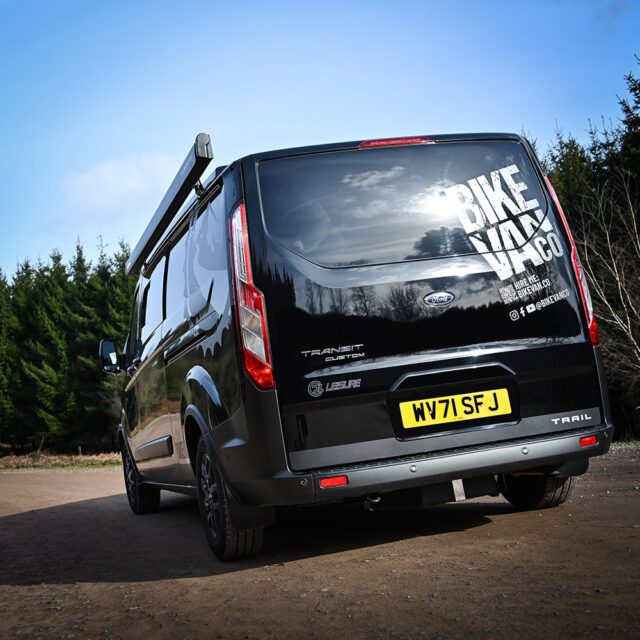 Drives

5

Sleeps

2 in van, 3 in awning

Secure Bike Points

4

Sliding Doors

1

Wind-out Awning

Yes

Drive Away Awning

Yes

Internal Jet Wash and Tank

Yes

Wet Room / Changing Room

Yes
First up is our Ford Transit Custom Trail. We wanted to offer one of these excellent vans because the rugged exterior and split differential up front are perfect to ensure you make it up those tracks to the bike park.
Also on the roster is our VW Transporter T6.1, a vehicle synonymous with all adventure sports and not just Santa Cruz riders! There is no secret to their appeal, they provide a great driving experience with plenty of load-carrying capability. VW is a brand we had to offer, being the originators of the Van Life movement.
Both of these vans are built around a changing/ wet room in the rear with custom bike and kit storage and underslung jet wash.
The vans drive up to 5 people – or we can swap out one of the rear seats and replace with our fridge unit that runs of the leisure battery and can be taken outside (stays cool for at least 12 hours) to enjoy a sundowner. Pop top roofs by Skyline provide sleeping accommodation for two or extend capacity with a drive-away awning. Dogs are allowed in this van.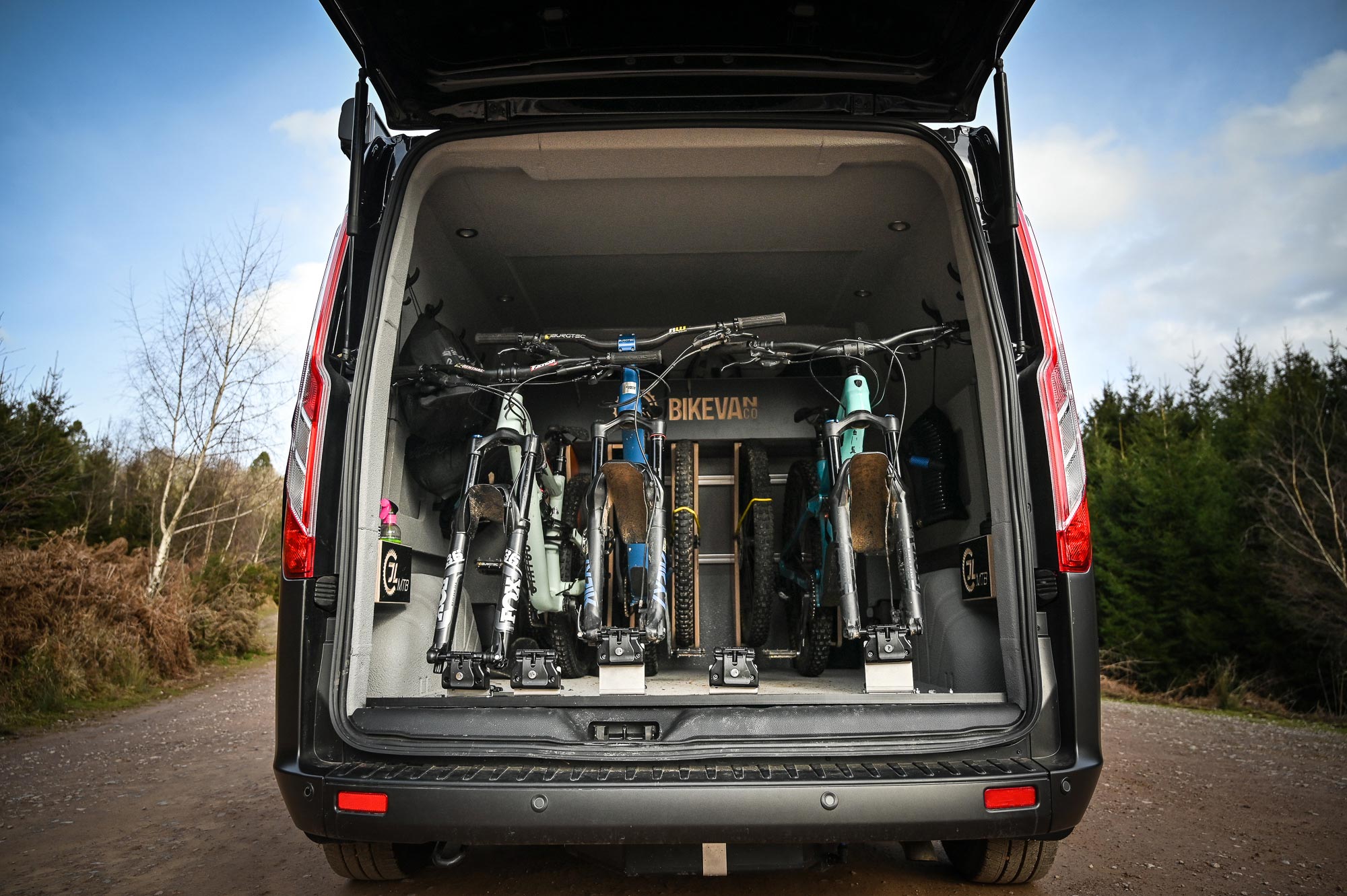 Changing room with 5 bike store
This is the Long WheelBase, standard height (L2 H1 in Ford jargon) version that perfectly incorporates the wet/ changing room in the rear with racking for up to 5 bikes (4 mountain bikes or 5 road/gravel bikes), stowed safely and securely, fold out benches, hooks and cubby holes for kit. We look after ebikes as well with four sockets available in the rears so your bikes can be charged between destinations.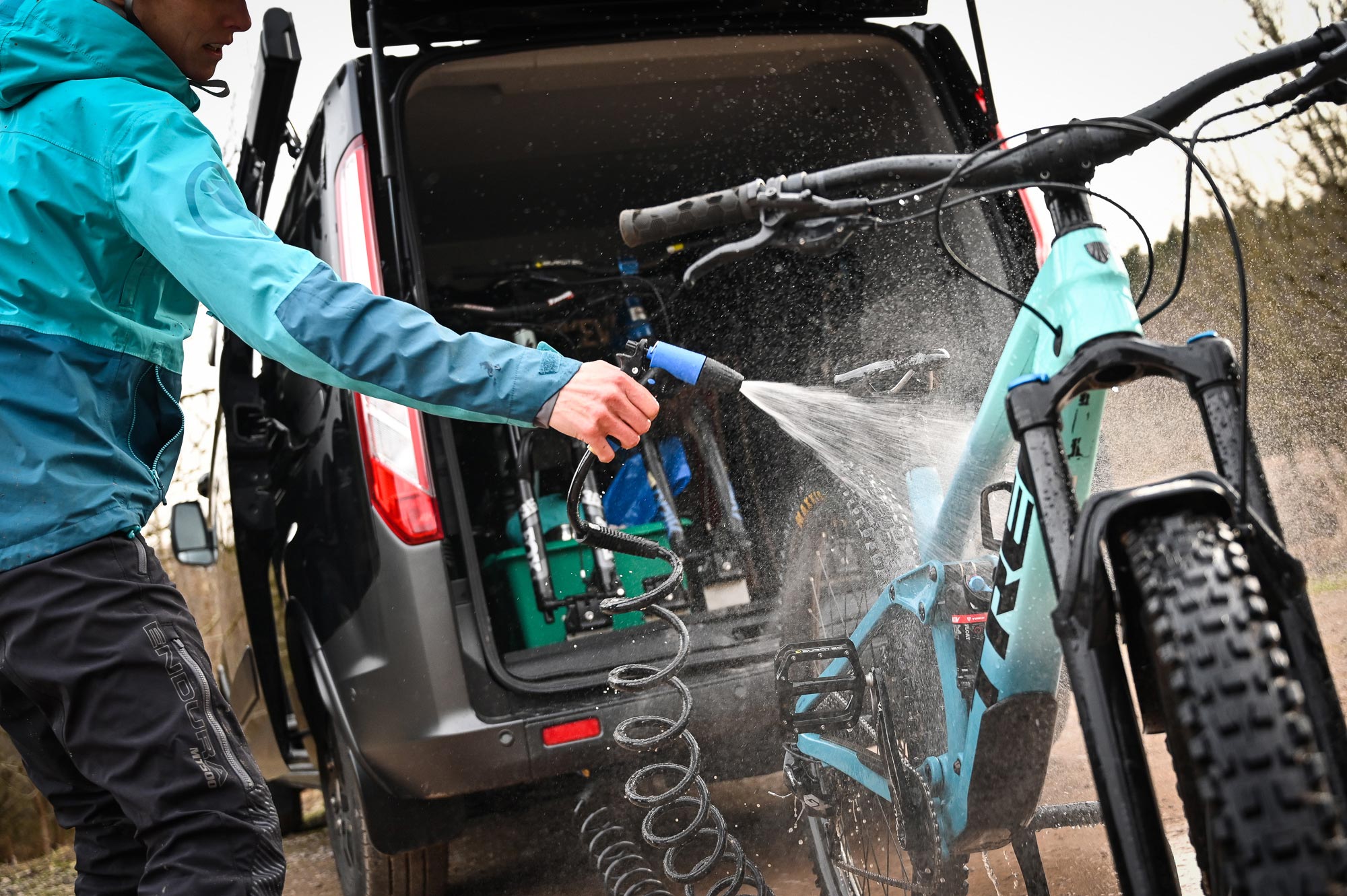 Keep it clean
Underslung and accessed from beneath the tailgate is the 70L tank that services the pressure washer. Attach the hose and trigger and switch on the pump to make sure all your kit goes back inside clean. Make use of the Muc Off products provided in the holders just inside so you are ready to ride the next day.
Just enough tech
In the cab you will find the factory fitted stereo with apple play/ android compatible connectivity. There are plenty of usb charging points and also a bit of luxury – our Alpine speakers and subwoofer can be bluetoothed to your phone, with the ignition off, so you can enjoy some tunes whilst you are prepping kit or relaxing in the evening. We have additional LED lighting in the cab and changing room.